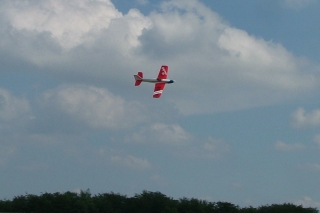 Gulfstream IIe
The Gulfstream IIe page includes images from other builders,
links to build threads, and more.

The Gulfstream was a construction article in the September 2009
Flying Models magazine. Get your plans
by ordering plan number CD377 by calling them at +1-908-383-3355. Order a copy of the
issue, too, so you can use the assembly instructions.

A short kit is available from Manzano Laser for $38.00 + $8.00 shipping.
The short kit includes only the laser cut parts. You need to provide your own sheeting for
the leading edge caps, spars, triangle, square stock, etc.